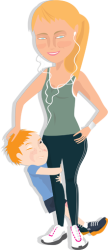 BUSY BELINDA
---
* Time precious
* Weak tummy
* Poor muscle tone
* Tension headaches
* Stressed
"Where does the day go? As soon as I drop off the kids, it seems I'm trying to find a park to pick them up again. I rush to the shops, organise the house and try to find some time for myself.
Since having kids, my body has really changed. Gravity has taken its toll, body parts moved south, while tension and stiffness has moved north. My vocabulary has improved though. I've learnt words like SI Joint pain, Migraine, Incontinence, and water retention.
When I started with the Swift Pilates, my teacher and I got to know each other pretty well. I asked heaps of questions about my core and pelvic floor - thank goodness we were alone - and my teacher made some very important observations about my posture - thank goodness we were alone!
I feel strengthened and lengthened at the end of each class, and more importantly RELAXED...argh! My husband has noticed too...settle down Tiger!
After 10 sessions I felt better, after 20 sessions I looked better and after 30 sessions I had a new body"